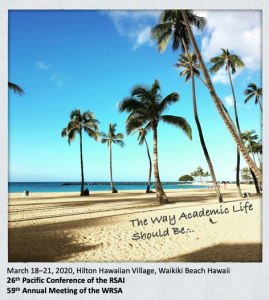 For our 59th annual meeting, we're heading to Waikiki of Hawaii for our joint meeting with the 26th Pacific Regional Science Conference (PRSCO) of the RSAI.
Our meeting dates are March 18-21, 2020, with opening plenary and reception scheduled for the afternoon of Wednesday (Mar. 18), followed by three full days of sessions on Thursday, Friday, and Saturday (Mar. 19-21).
Short abstracts, as well as full papers (draft format acceptable), will be accepted for this conference. Full papers benefit from the traditional WRSA 45-minute per paper time slot, while abstracts will be allocated shorter presentation times. All submissions will be reviewed and will be assigned a discussant on the program. All presenters are expected to discuss a paper and/or chair a session.
Our meeting hotel is the Hilton Hawaiian Village in Waikiki, Hawaii, which has the widest stretch of beach in Waikiki. Hilton Hawaiian Village in Waikiki features 5 high-rise towers along with the beautiful Waikiki beach, 20 restaurants and lounges, plus a saltwater lagoon, 5 pools and a full-service spa. Our negotiated room rate is $229/night (plus taxes and fees) and "optional" resort fee will be optional that includes guest internet access (up to 2 devices), Hawaiian cultural activities, outdoor morning exercises, movies at Sundown, and etc. Parking is available with extra charges. See the "Hotel Information" link to the left for room reservation instructions.
Full meeting information will be available in the upcoming Spring/Summer Newsletter (be sure to renew your membership in order to receive!) and on the website. Check back in the weeks to come!
The deadline for submission of full papers and abstracts is November 15, 2019!